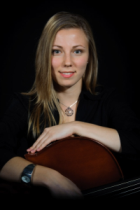 Chamber Orchestra of Medical University of Warsaw. It's been about a year since a student of a second year of a First Medical Faculty had motivated a bunch of her friends with musical history to form a band to vary academic ceremonies. Marta Dudek – the author of the idea – plays cello in the medical chamber orchestra, together with several people who having graduated from secondary musical school have chosen another line of career.
The beginnings, although quite tough, didn't discourage anyone. Having in mind only their musical fascinations and purposes, the group managed to show their first program – piano concert's by J. S. Bach and J. Haydn, Ave Verum Corpus and Eine kleine Nachtmusic by V. A. Mozart, Largo by G. F. Haendel and Adiemus by Enya - 20.11.2008. Since then, the orchestra has considerably extended its repertoire with pieces by such composers as Puccini, Brahms, Debussy, Rachmaninoff, Rimsky-Korsakov and Pachelbel. At present the ensamble is practicing the Fiddler on the Roof. Its members are students or graduates of the Warsaw Medical University and other universities of Warsaw. Most of them could cite Anna Maria Jopek: "Chasing the sound I hear the music beat, music in my mind, my mind in it." *
The main "sculptor" of the orchestra is Beata Herman – the court conductor of all the WUM's musical projects. A petite woman with great charisma, she encourages youngsters to pursue perfection as well as manages the orchestra and choir and arranges popular and folk songs for the symphonic use.
The music involves much more than just playing instruments. Composers use mathematics to achieve its harmony. A luthier must have the knowledge of physics to be able to elicit a touching voice from an instrument. And the musician uses muscles to express emotions in that intangible way. Everyone from the orchestra knows that perfection is far away. Everybody is aware that you must get tired before you may rest. Rehearsals are to give birth to real music. And "The music is like a dream – you rest by listening to it." as Leo Tolstoy noted.
We dream about a full symphonic orchestra. Who knows? If you join us, maybe our dreams will come true.